PRESS RELEASE


Dubspot
, New York City's center for dynamic electronic music production and DJ education presents two of its renowned
Ableton Live
experts in Los Angeles for special workshops designed for the digital music enthusiast. Come and get a taste of the Dubspot experience and see why it has quickly become the premier center for digital music and an essential stop over for accomplished guest instructors from around the world.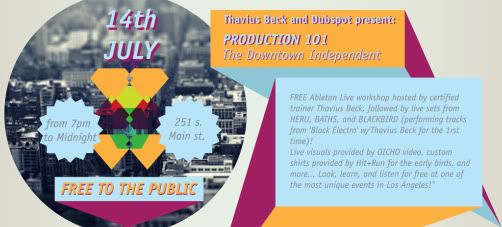 Ableton Live: Production 101
On
Wednesday, July 14th
, Dubspot presents a FREE Ableton workshop featuring Los Angeles native
Thavius Beck
who will be teaching another installment of his ongoing
Production 101
series in
Ableton Live
. Thavius is a composer of mercurial soundtracks for uncertain times conjoining various strains of electronic music to arrive at a daringly ambitious sound. An exceptional programmer, engineer, multi-instrumentalist and certified
Ableton Live
instructor, Thavius Beck's many talents allow him to take music from idea to completion with an uncompromising vision and ear. This workshop is FREE and open to the public so the curriculum is designed around the demands of those in attendance. From basic to deep, various techniques are explained and explored, as well as some more esoteric approaches toward music creation on
Ableton Live
. In addition to the two hour workshop, there will be a DJ performance by
DJ Heru
and then a live performance from
Baths
,
Thavius Beck
and
Blackbird
. During the performances, certain aspects of the performer's setup will be displayed on a screen so participants can get a better understanding of what the artist is doing on stage. The audience will have a very unique opportunity to see what goes into creating the live performances.
Downtown Independent
251 S. Main Street
Los Angeles, CA
7pm-12am
FREE / Open to the Public / FACEBOOK RSVP
HERE
July 23rd, 2010
Benefit for the Humane Society with Free The Robots & Dubspot's LA Instructors
On Friday, July 23rd, Dubspot will host a benefit for The Humane Society of the United States (HSUS) to assist animals affected by the oil spill and other disasters. Admission is FREE, and donations for the HSUS will be accepted.
Chris Alfaro aka Free the Robots is a genre-defying artist who pulls together heavy doses of traditional jazz, psych, electronic and hip-hop, with progressive melodies and devastating drums into a rich pot of sound. His techniques create harmony between genres with the blending of obscure samples with analog and digital compositions. The event which will also serve as an introduction to some of Dubspot's LA instructors, including electronic musician, producer/MC Thavius Beck, composer, producer, and sound designer Laura Escudé, and electronic musician and Chapman University professor Steve Nalepa (Stay tuned for more info! The list of instructors/performers is growing!)
Friday, July 23rd
(8pm -2am)
King King
6555 Hollywood Blvd.
Hollywood, CA 90028
323.960.9234
ABOUT DUBSPOT
As one of the first
Ableton Certified Training Centers
in the world,
Dubspot
has become the premier music school for both experienced & aspiring artists alike. Most importantly, Dubspot is a growing community of musicians, DJs, visual artists, audio technology professionals, industry veteran producers, & enthusiasts of all genres who all share a deep passion for music. Dubspot offers everything from digital music production programs (Ableton Live, Logic Pro, Pro Tools, Reason, Serato, and Native Instruments) to a diverse range of class offerings for all skill levels, budgets, and schedules. It is the school that is redefining music education for the digital age while providing students with the skills and savvy in order to make music today.
Dubspot
348 West 14th Street - MEZZ
New York, NY 10014
1-877-DUBSPOT
(382-7768)
info@dubSpot.com
www.dubSpot.com